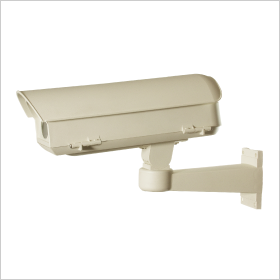 Weatherproof housing fully made by a mixture of high-resistance Compound (Nylon/Glass*) with tempered front glass. The use of dedicated additives also guarantees a high UVA-UVB resistance, together with an excellent protection against corrosion (alkali/acids) and weather conditions, including marine environment.
The supplied double-opening system (both on the right and on the left hand side) makes it easy to install, avoiding problems of positioning, and enables a complete access to camera. The standard WPB bracket (with hidden cables) can be both wall or pole mounted, without any further supporting elements needed.
Free space inside, achieved through an accurate design, makes it suitable also for IP cameras, optimising temperature and ventilation.
The supplied sealed cable glands (1x PG11+1x PG9) are suitable also for installations with external cables (and with IP66 protection rate).
HTC300
HTC - Double-opening housing
Innovative design
Double opening (right/left hand side)
Hidden cable management
or through supplied cable glands
Tempered front glass
For cameras with fixed lenses
or small/medium varifocal/zoom
Complete access to camera
Anti-ageing seal gaskets
ip66 protection rate
Low power consumption heater
Applications
For all civil (where protected cables are required) and industrial applications with ip66 protection rate. Particulary suitable for installations in corrosive, marine environment and in public places (banks, museums and art galleries, schools, hospitals, parking lots, natural parks, and so on).

* Polyamides-pa have very good mechanical properties, are highly wearproof, have a low friction rate, high melting point, high crash resistance, high endurance strength and a great resistance also to organic solvents and an incredible surface shine. Glass reinforced polymers are also characterized by high rigidity, good dimensional stability, great heat resistance up to 150°C and a good wearproof level.