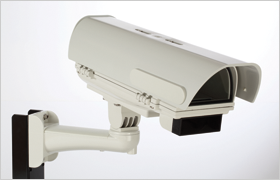 Flexa is a new and innovative housing made from Serinn designed for making standard installation procedures easier, offering an unprecedented operational flexibility. It made of die-cast aluminium with technopolymer components, cable management and meets IP67 degree of protection. Suitable both for traditional analogical and new IP and Megapixel cameras.
Its functionality obtained through its exclusive and patented S.I.C.I. opening system makes it possible to choose on which side the housing is opened: right hand side, left hand side, on the back while the upper body can be completely removed. Full easy access to camera and its accessories.
The body and bracket are made of die-cast aluminum whereas some components are made of technopolymer. The sunshield, made entirely of tecnopolymer, is shaped front and back with different angles in order to be used in both directions also as lightshield (patent pending), e.g.: more inclined side for narrow angle optics. On both sides there is a no-drip flange.
The IP67 sealing is guaranteed not only by a EPDM perimeter gasket but also by three cable glands located under the housing and covered by a bracket joint. Inner cable connection.
"All in One" version supplied with an IR-LED illuminator mounted inside a specially designed fitting, integrated onto the housing base (patent pending). This solution is a practical answer to all those problems that might arise when LEDs are placed behind the front glass, together with the camera lens. Illumination range up to 125m (18°).
An air extraction system for IP/Megapixel camera applications and high temperatures is also available. Two different fan operation modes available to choose from:
1) start/stop controlled by electronic thermostat;
2) continuous operating mode;
An alarm signal for "fan stop" is available on its dedicated driver.
The housing does not need to be opened when filters are being replaced.
In this way service time is reduced, as camera and its accessories do not need to be removed.
Flexa HFA300
Multiple opening aluminium housing
with inner cable connection
Exclusive S.I.C.I. system which allows
to choose the opening side
This product meets all reference standards
for Class1 and Class2 applications
(without ground reference); patent pending
Suitable for all traditional analogical
and new IP/Megapixel cameras
Tempered front glass
Innovative bracket with screws for pipe
termination (Ø 20mm) and an openable
upper cover which makes it easier to insert
connection cables; patent pending
IP67 protection class with inner
cable connection
Sunshield with different front
and back angles that can be used
in both directions for a optimal coverage
"All in One" versions supplied
with an integrated IR-LED illuminator
and illumination range up to 125m (18°)
Also available with air extraction system.
The housing does not need to be opened
when filters are being replaced
Inner technical spaces suitable for hosting
various accessories and systems, e.g.:
splitters, power supplies, F.O.tx, etc.
Indoor/Outdoor use
Versions
FLEXA HFA300 will be available with a wide range of options: standard housing, housing with heating system, with filters and air extraction fan, with heating system and forced ventilation, with IR-LED illuminator integrated onto the base, etc.
Please refer to our latest Price List for product codes and ranges of the various models.