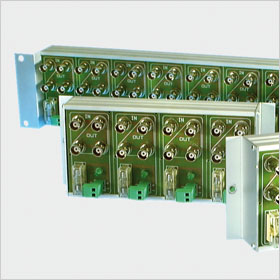 This Video Distributor is a user friendly item that can be adapted to satisfy all your needs. The basic EVD1/3 card has 1Video IN/3Video OUT balanced in order to obtain a standard Video level (1Vpp). Cascade connection possible in order to expand the Video OUT capacity.
Extremely versatile: each card indifferently accepts 24Vac or 12Vdc power, with reverse polarity protection when 12Vdc input power is used. Different ready to use versions are available: single module, 4 modules, 10 modules, inserted in an Anticorodal anodized case.
Versions
EVD1M 1x EVD1/3 Video distributor
EVD4M 4x EVD1/3 Video distributors
EVD8PS 8x EVD1/3 Video distributors+24Vac-800mA
power supply board, Rack 19"-2U
EVD10M 10x EVD1/3 Video distributors, Rack 19"-2U
EVD
Modular video distributor
Modular system

24Vac/12Vdc power supply

Protection fuses for each card

Power ON LED for each card

Anticorodal case

Standard Rack kit 19"-2U

Easy to use

EVD meets the requirements for CE directives
(cert. Nemko spa-Biassono/MI)
Technical Sheet
Video IN (card) 1x BNC
Video OUT (card) 3x BNC-1Vpp
Power Supply (card) 24Vac-50mA/12Vdc-20mA
Operating temperature -20°C ÷ +50°C
Protection IP30 (all versions)
Dimensions
EVD1M: W 74 x H 50 x L 88 mm
EVD4M: W 230 x H 50 x L 88 mm
EVD8PS: Rack 19"-2U
EVD10M: Rack 19"-2U
Product sheets and availability subject to change without prior notice. © 2012, SERINN snc. All right reserved.
Accessories
EVD1/3 1 IN/3 OUT video distributor card (case space: 1 slot)
PSM24/2M 230Vac/24Vac-800mA power supply board (case space: 2 slots)
RD10M Rack 19"-2U case for max. 10 slots
BP1M Blank panel (case space: 1 slot)