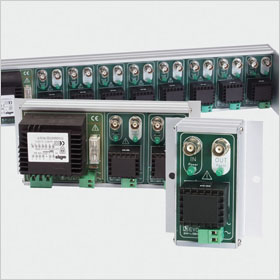 Modular Video Optoisolator made up of a main EVO1/1 board (1 IN/1 OUT). The Video Optoisolator provides a galvanic isolation between video source (camera, dome, etc.) and the receiving equipment (monitor, multiplexer, digital, etc.). In this way, all interferences due to different potentials, between different ground points, which do not at all contribute to the professionality of the CCTV system are definitely eliminated (Ground-Loops, Video Hum).
The EVO1/1 board is inserted in anodized Anticorodal cases of different dimensions to meet all requirements. The 19" rack versions are suitable to be used for video production. The presence of separate power supplies for Video IN and Video OUT is indicated through special LEDs. High quality circuitry and electronics guarantee a perfectly linear output together with an extremely large bandwidth: high performances which make EVO1/1 an extremely valuable product.
Versions
EVO1M 1x EVO1/1 Video Optoisolator
EVO4M 4x EVO1/1 Video Optoisolators
EVO8/PS 8x EVO1/1 Video Optoisolators+1x PS24/2M 24Vac-800mA power supply board
EVO10M 10x EVO1/1 Video Optoisolators, Rack 19"-2U
EVO
Modular video optoisolator
Extremely large bandwidth

Linear output
Modular system
B.T. power supply
Power ON LED for video IN and video OUT
Anticorodal cases
Also in 19"-2U Rack
Extremely easy to use
Technical Sheet
Video IN 1x BNC-1Vp-p
Video OUT 1x BNC-1Vp-p
Bandwidth 17MHz -3dB
Power supply 24Vac (extractable terminal block)
Power consumption 80mA
Notifications LEDs for power supply TX/RX
Operating temperature -20°C÷+70°C
Protection IP30 (for all versions in cases)
EVO1M: W 74 x H 50 x L 88 mm / 200gr
EVO4M: W 230 x H 50 x L 88 mm / 790gr
EVO8/PS: Rack 19"-2U / 2,5Kg
EVO10M: Rack 19"-2U / 2,1Kg
Data subject to changes without prior notice. © 2012, SERINN snc. All right reserved.
Accessories
EVO1/1 1 IN/3 OUT video optoisolator card (case space: 1 slot)
PSM24/2M 230Vac/24Vac-800mA power supply board (case space: 2 slots)
EV4/PS Case supplied with 1x PS24/2M and 2 free slots (BP1M not supplied)
RD10M Rack 19"-2U case for max. 10 slots
BP1M Blank panel (case space: 1 slot)